Welcome to Model Car Tips!
Learn to Build a Realistic Plastic Model Car
So you've decided to build a model car kit. Welcome to an absorbing and fun-filled hobby! Nothing quite captures the imagination as a racing car on the track, or a sports car cruising down the highway. This hobby is a great way to admire an automobile of personal meaning or interest to you, or to spend time with kids teaching patience and hand-eye coordination.
Plastic model kits are designed with a tremendous amount of accuracy and detail. The kit format allows you to fully customize your model.
You may have already built or partially built a model, and have mentally compared it to the ones you see on display at the hobby shop. You are wondering how they make the kits turn out so amazingly realistic! Some of your questions might be:
1) How do they get rid of the gaps between the body parts?
2) How do they get the paint to look so smooth?
3) How do they get the small details to stand out instead of disappear?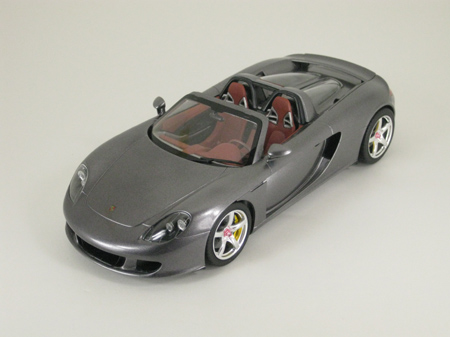 Above: Porsche Carrera GT(1/24 scale).
This site is intended to answer these and many more questions. We'll demonstrate building the typical model car kit from start to finish.
Begin at the top of the menu at the left and proceed downwards.
You will learn many of the insider tricks that are used to turn a humble box of molded plastic parts into a museum-worthy masterpiece.
You can use as few or as many of these tricks as you like to improve your models. But the most important thing is to have fun doing it!
Send us your comments below! Login with your Facebook, Twitter, Google or Yahoo account.